Chicago mounts legal challenge to DOJ effort to punish 'sanctuary cities'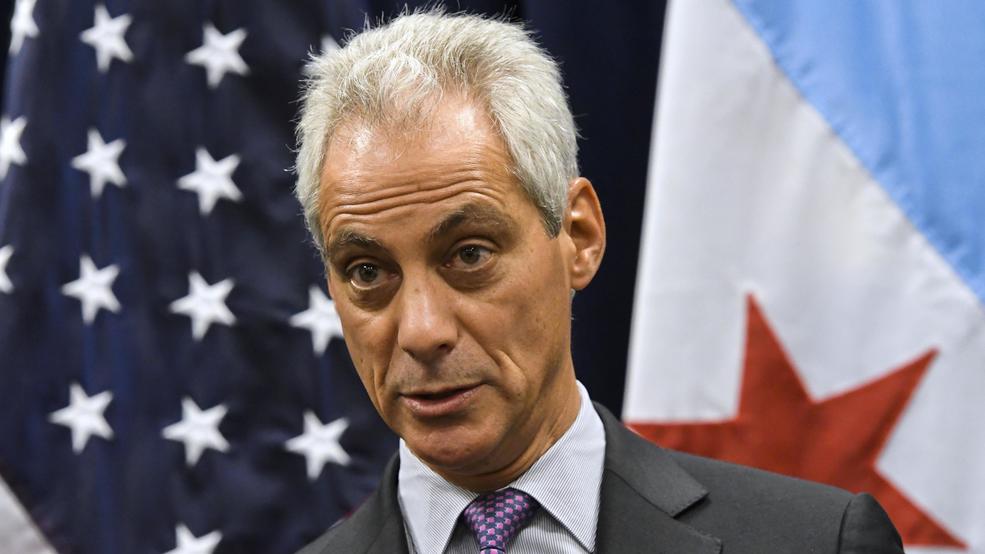 WASHINGTON (Sinclair Broadcast Group) —
The standoff between the Department of Justice and so-called "sanctuary cities" escalated Monday with a lawsuit filed by the city of Chicago over a new policy that could cost its police department millions of dollars in federal grant funds.
Under guidelines announced last week, jurisdictions will be required to cooperate with federal immigration enforcement in order to be eligible for the grants, which police departments use to purchase needed supplies. Hundreds of cities and counties across the country have been identified as "sanctuary" jurisdictions because they do not assist federal authorities with detaining and deporting undocumented immigrants.
The Chicago lawsuit alleges that the new conditions imposed by the DOJ "effectively federalize local detention facilities and violate the Fourth Amendment in instances where detainees are otherwise lawfully eligible for release from police custody."

The city claims meeting these requirements would violate its decades-old Welcoming City ordinance, which is intended to prioritize local law enforcement over federal immigration enforcement. Under the current policy, police can provide ICE with access to immigrants suspected of being in the country illegally who are wanted on criminal warrants, face criminal charges, have serious convictions, or are listed in the city's gang database.
"Community policing is a guiding philosophy of the Chicago Police Department, but it cannot succeed when a segment of the community is afraid to cooperate or communicate with the police," Chicago Mayor Rahm Emanuel said at a press conference announcing the lawsuit. "Chicago is a welcoming city and always will be, and we will not be blackmailed by President Trump's Justice Department. Forcing us to choose between our values and our Police Department's philosophy of community policing is a false choice, and it is a choice that would ultimately undermine our public safety agenda."
Beyond that, the complaint claims Chicago actually is complying with the law. Officers are not restricted from sharing information on immigration status with federal officials, but they simply do not collect immigration status information at all, it states.

The specific funds on the line here come from the Edward Byrne Memorial Justice Assistance Grant program. Last year, Chicago received $2.3 million under the program. According to the Associated Press, the city has used $33 million in grant funds to buy nearly 1,000 police cars since 2005, and funds have also gone toward purchasing radios and SWAT equipment.
The city of Chicago press release on the lawsuit notes that the program is named after an officer who died protecting a Guyanese immigrant who had reported illegal activity to police.
With applications for this year's grants due in a few weeks, the DOJ last Thursday added new requirements that qualifying cities and states cannot restrict sharing of information on immigration status with the federal government, they must give the Department of Homeland Security access to police stations for interrogations, and they have to give DHS 48 hours' notice before releasing someone suspected of immigration violations.
Officials in Chicago have bristled at these demands and rejected the premise that they would reduce violence.
"We will not compromise the safety and well-being of our city and the people we serve in the name of politics," Chicago Police Department Superintendent Eddie Johnson said Monday.

However, advocates for more restrictive immigration policies argue compromising safety for politics is exactly what Chicago is doing.
"What's motivating it is politics in one word," said Ira Mehlman, media director for the Federation for American Immigration Reform. "Rahm Emanuel does not want to see our immigration laws enforced."
Mark Fleming, associate director of litigation for the National Immigrant Justice Center, defended the lawsuit, alleging that the DOJ's coercive tactics violate the traditionally conservative principle of allowing states and localities to set their own policies.
"The new conditions the Attorney General is attempting to place on Chicago and other localities are unlawful and unconstitutional," he said. "These conditions put the city of Chicago in the untenable and unenviable position of choosing between vital federal funds and engaging in practices that violate Illinois law, federal law, and the Fourth Amendment of the U.S. Constitution."
The Department of Justice has not yet drafted a full legal response, but it has issued a harsh statement accusing Emanuel and city officials of protecting criminals at the expense of their own citizens.
"This administration will not simply give away grant dollars to city governments that proudly violate the rule of law and protect criminal aliens at the expense of public safety. So it's this simple: Comply with the law or forego taxpayer dollars," said the statement attributed to Attorney General Jeff Sessions.

Many experts have disputed the presumption by Trump, Sessions, and others that illegal immigration is linked to increased violent crime.
"There is no evidence of any correlation between a city's sanctuary policies and crime rates," Fleming said. "On the other hand, there is evidence that communities with large numbers of immigrants are actually safer and that crime rates among immigrant communities is low. Furthermore, there is evidence that fear of deportation deters people from reporting crimes."
Whether it is statistically more likely or not, crimes have been committed by undocumented immigrants released despite detainer requests from ICE, and those offenses could have been prevented if local authorities enforced federal immigration law.
"We've seen numerous examples of people who have been let loose because of these sanctuary policies go on to commit serious crimes," Mehlman said.
Mehlman is skeptical that the lawsuit will succeed.

"The federal government has authority to enforce immigration laws however they want," he said.
However, Fred Tsao, senior policy counsel at the Illinois Coalition for Immigrant and Refugee Rights, said the demands being made by the DOJ would improperly require local governments to perform federal tasks.
"We believe that the law is on the side of Chicago and other cities with welcoming policies," he said. "The U.S. Supreme Court and other federal and state courts throughout the U.S. have consistently ruled that the federal government cannot commandeer local governments to carry out federal functions like immigration enforcement."
The complaint also maintains that the executive branch unilaterally changing conditions of the grant program infringes upon the power of the purse reserved for Congress under the Constitution.
There is no question that Chicago is suffering from a severe and seemingly intractable epidemic of violence. More murders have occurred there this year than in New York City and Los Angeles combined, but there is no evident connection to its immigration policies.
Chicago officials say the Edward Byrne grant funds are needed to help combat the violence, and withholding them would be counterproductive to bringing peace to the city. Supporters of the DOJ point fingers back at Chicago, though.

"Is it counterproductive for Rahm Emanuel to say, I'd rather protect illegal aliens than give the police the tools they need to enforce the law?... It takes two to create an impasse," Mehlman said.
Tsao insisted sanctuary policies help police enforce the law.
"Local law enforcement are able to do their jobs better in welcoming cities, where they can concentrate on criminal justice matters rather than be burdened with immigration enforcement," he said. "Plus these policies remove much of the fear among immigrant communities regarding interactions with law enforcement, making immigrants more comfortable in reporting crimes and working with police and prosecutors to catch and prosecute suspects."
According to Fleming, local police departments should have authority to use their resources as needed, rather than hewing to the priorities of the administration's immigration policies.
"Police and sheriff's departments in Illinois and across the country support policies that create a clear distinction between the work of local cops and the work of federal immigration agents," he said. "Separating the work of local police and immigration makes it easier for police officers to build trust with the residents they rely on to report crimes and assist in investigations."

Mehlman is unconvinced by police chiefs in Chicago and elsewhere who support their cities' refusal to cooperate with immigration enforcement.
"The chiefs of police, the upper brass, they're more politicians than cops and they serve at the pleasure of the mayor and city council," he said.
Before Trump took office, the DOJ issued a report accusing Chicago police of abuse, mistreatment, and disrespect of black and Latino residents. Although the city accepted the findings, Emanuel has pushed back against oversight.
The city has frequently come under attack from President Trump for its crime problems, sometimes singling out Emanuel over his leadership.
"Chicago murder rate is record setting - 4,331 shooting victims with 762 murders in 2016. If Mayor can't do it he must ask for Federal help!" Trump tweeted on January 2.

In June, Trump decided to send in that help. At the time, Sessions announced the creation of the Chicago Gun Strike Force, assigning 20 ATF agents and federal prosecutors who would prioritize reducing gun violence.
"More than two homicide victims per day. What the hell is going on in Chicago? Better tell that mayor to get tough," Trump said during a rally in Ohio in late July.
The battle over sanctuary policies is increasingly being waged in the courtroom. While Chicago is the first municipality to challenge Sessions' latest directive, a previous attempt by Trump to punish sanctuary cities by executive order was largely blocked in federal court.
Several Texas cities have filed suit against their state over a law that creates civil and criminal penalties for local elected officials who implement sanctuary policies. The Texas law, SB 4, is scheduled to take effect on September 1. Austin, San Antonio, Houston, and Dallas are among the cities fighting it in court.

Not every sanctuary city is fighting back. Some are rolling back their policies and cooperating with immigration authorities.
Clark County, Nevada and Miami-Date County, Florida recently received letters certifying that they are now compliant with a federal statute prohibiting policies that restrict communication with immigration authorities about citizenship of arrestees, according to the Washington Times.
The counties were two of 10 jurisdictions cited by the Obama Justice Department last year for violating the statute. Earlier this year, the DOJ demanded proof of compliance from them and all ten claimed they were compliant, including Chicago.
"It is not enough to assert compliance, the jurisdictions must actually be in compliance," Sessions said in July. "Sanctuary cities put the lives and well-being of their residents at risk by shielding criminal illegal aliens from federal immigration authorities."

Other jurisdictions may follow Chicago's example and take legal action against the DOJ, but whatever the outcome, Tsao believes the Trump administration's whole crusade against sanctuary policies is misguided.
"Rather than trying to punish immigrants and the communities that welcome them, the federal government should instead respect the contributions that immigrants make to our entire country and find a way for those immigrants whom the law blocks from getting legal status to become full members of our society," he said.
Unmute