Shoppers happy to find deep discounts at Amazon's Whole Foods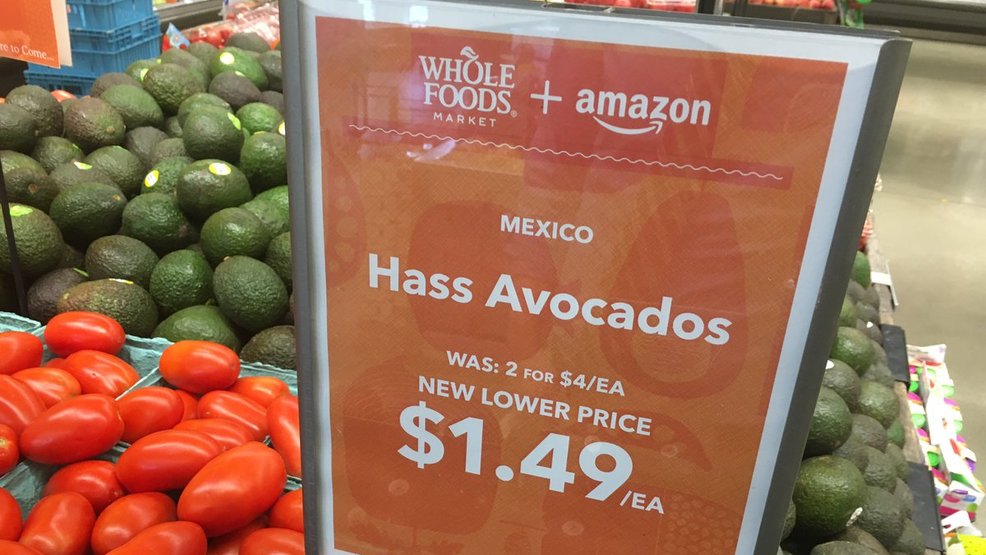 WASHINGTON (ABC7) —
Amazon has officially entered the grocery business. The online shopping giant launched its first day as the owner of Whole Foods by dropping prices on a handful of products.
As of today, Whole Foods price tags claim New York strip steak has been marked down by $3 a pound, apples and tomatoes down by $1 a pound and bananas down by 10-cents a pound.
Signs also show rotisserie chicken is $3 cheaper, a box of Cheerios down by $1 and brown eggs down by 50-cents.
Except for these and other select marked down items and some signage outside the D.C. Whole Foods location on H Street NE, it'd be easy to miss Amazon's takeover of the grocery chain.
In fact, many shoppers said they had no idea about it.
"No. I didn't notice anything different," William Federer said.
Because of its organic offerings and notoriously high prices, some have jokingly referred to Whole Foods as "whole paycheck."
"I think one time I got maybe about five or six items and I spent $80," said Brittany White.
Many shoppers said they are now looking forward to using their $99 a year Amazon Prime memberships to get additional savings through a rewards program under development. Meanwhile, certain Whole Foods products will soon be sold on Amazon's website.
PHOTO GALLERY: What's Cheaper at Whole Foods now that it's owned by Amazon?
"I'm excited that I can now buy healthy food online. And I don't have to deal with the riff raff of getting the baby in and out of the car. And it's just easier," White said.
Still, some Whole Foods faithful are skeptical, wondering if quality will suffer or whether Amazon's business model is a good match for Whole Foods' healthy, environmentally-focused brand.
"I think it's a bit odd Amazon buying Whole Foods," said Federer.
The $13.7 billion deal went through Monday and rivals are now scrambling to keep up, with Amazon promising even more changes are on the way.
Unmute